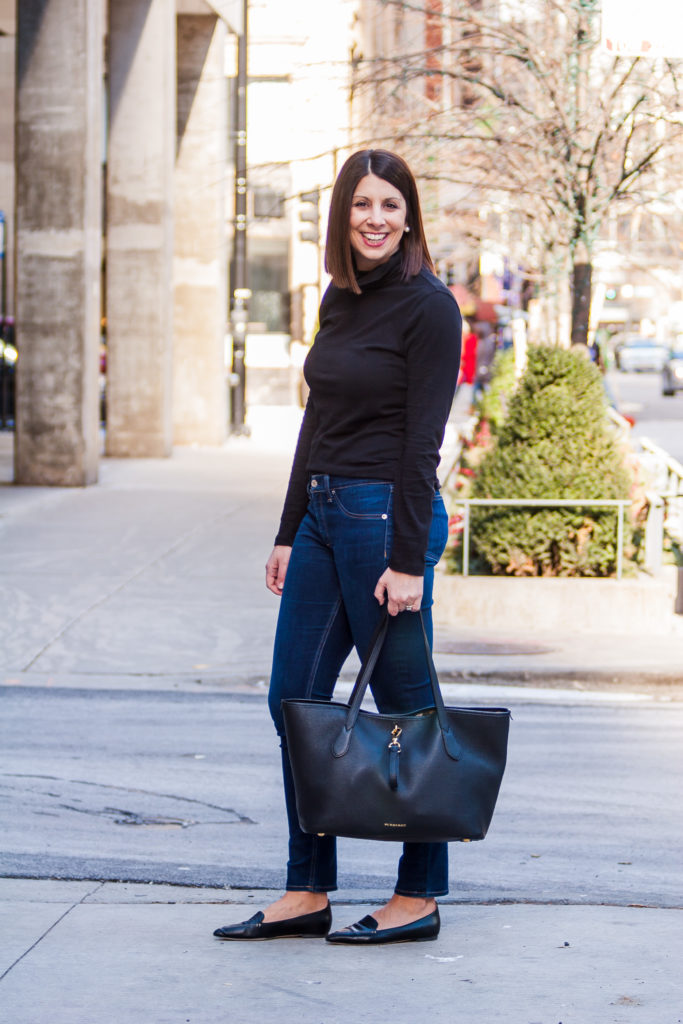 Do you have a sweater or a pair of jeans that you grab every time you need to wear something?  Do you find yourself buying the same things every season to replace an older version that is worn out?  If you do, you have stumbled upon a Key Piece in your wardrobe.  A Key Piece enhances your current closet collection, an item that can be worn across multiple seasons, and an item that isn't overly trendy. In other words, the item is timeless and key to every wardrobe.  I'm sharing my Top Five Key Pieces you need in your closet right now.  To be sure to see all my Key Pieces throughout the year, be sure to follow me on Instagram and Pinterest.
I've been collecting Key Pieces for years. As I've gotten older, I've really splurged on a few Key Pieces. However, back when I made $28K a year, I bought what I could afford.  Today, I've rounded up my top three choices in each Key Piece category with a budget option, middle of the road option, and a splurge option.  Key Pieces shouldn't be limited to pricey items. They should be made for all to enjoy no matter your age or the salary you make.  There is one for everyone and their life timeline.
Dark Skinny Jeans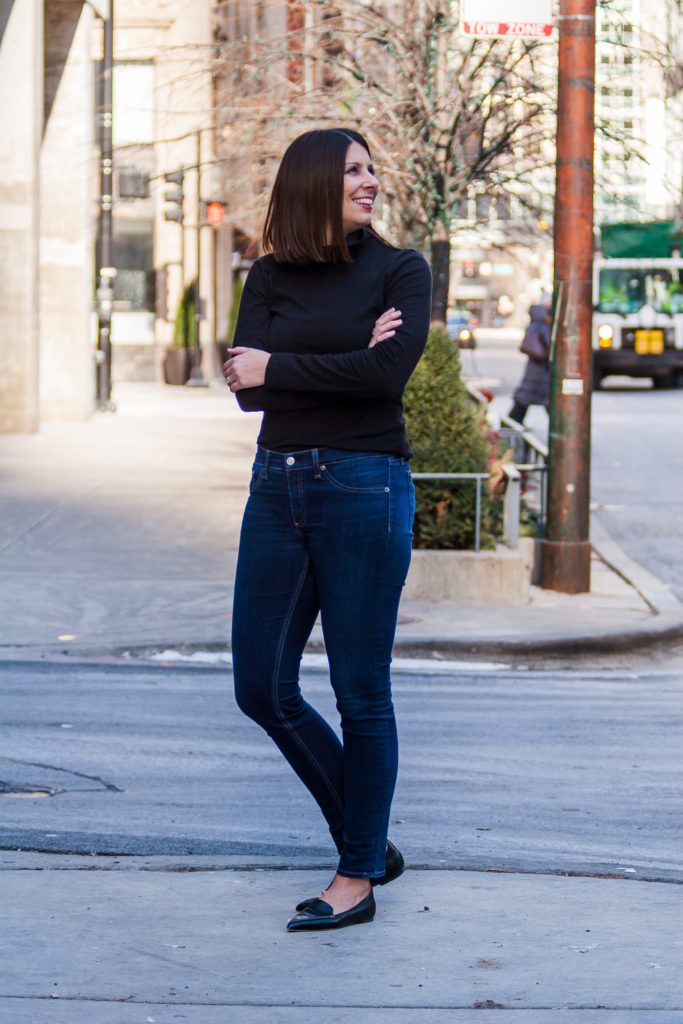 I love all colors of skinny jeans, but I especially love my dark wash skinny jeans.  I consider them my dressed up jeans.  The dark color makes them look less like a casual jean and more dressed up. I can wear them during the day or night and instantly look put together. My go-to favorite pair right now are my 7 For All Mankind b(air) Jeans. They are super stretchy, but maintain their shape, i.e. you can eat in them without feeling like stuffed sausage.  I'm also loving my Rag and Bone pair, however they run a bit big in the waist, so I had them taken in.  
Budget | Middle of the Road  | Splurge 

Black Turtleneck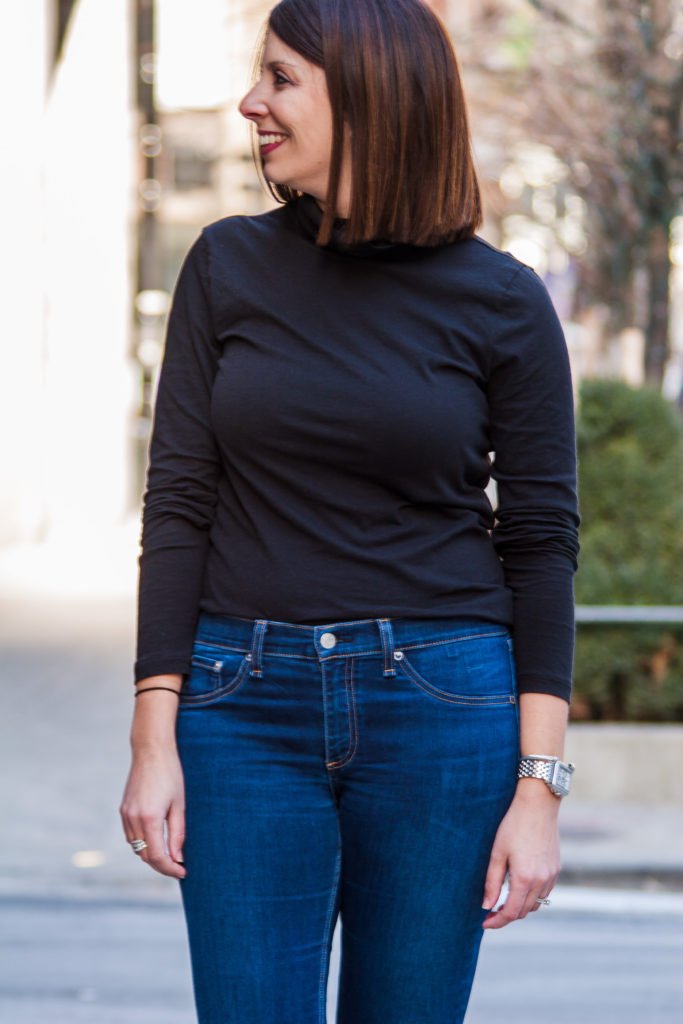 I've been wearing a black turtleneck since I was old enough to drive myself to the Gap.  A black turtleneck has so much versatility it's crazy.  They come in just about every fabric under the sun and can be worn from Fall until Spring.  You can wear it tucked or untucked, tight fitting or over sized, and you can wear it casually or dressed up. The options are endless.  Putting on a black turtleneck instantly makes you looks polished and chic.  I have about five black turtlenecks in my rotation right now, but my go to is this one from J. Crew.  I am wearing it in a medium and it runs true to size.  
Budget| Middle of the Road | Splurge 

Timeless Bag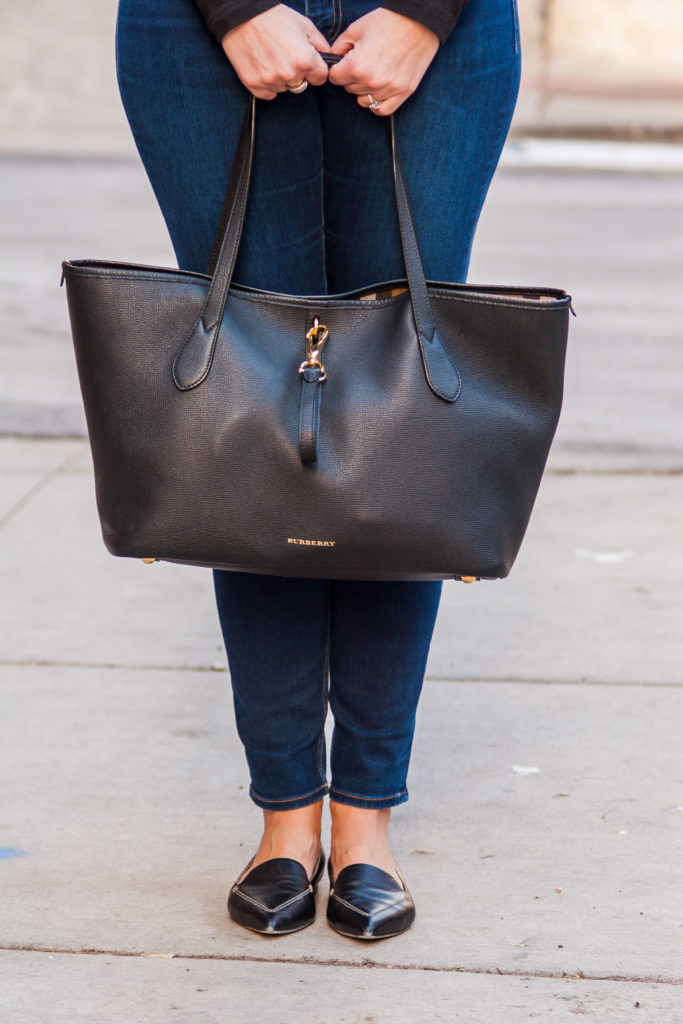 It's your go to, your tried and true, your everything bag. The one you grab time and time again.  It's the bag that never goes out of style and that you can wear with everything. It's a timeless bag.  I finally purchased mine after saving up for it. It's a classic black tote with very minimal hardware on the purse.  I'm not a huge logo person, so the small placement of the logo on my bag is perfect for me.  This bag can handle any task, from work to shopping to going to to dinner.  Sadly my exact bag is sold out, but similar versions are available here, here and here.  I opted to go for the splurge on this bag and I'm so happy I did.  I truly LOVE it!
Budget | Middle of the Road | Splurge 

Black Flats
There is nothing I love more than a pointy pair of black flats.  Don't get me wrong, I love round toe flats too and own several pair. However, pointy toe shoes add a touch of sophistication that can you can wear anytime, day or night.  I often wear my pointy toe flats out at night and feel just as dressed up as I do in a heel.  
Budget  | Middle of the Road | Splurge 

Arm Candy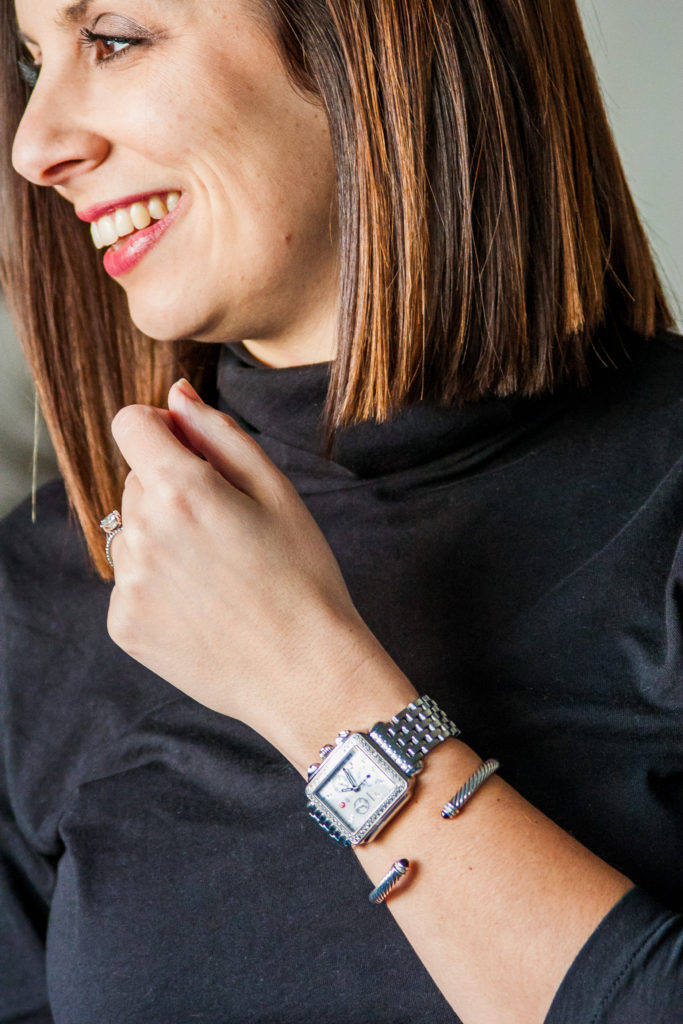 Arm candy could be a watch or a bracelet.  I personally have one of each that I wear daily and consider it part of my signature style.  Like my purse, I saved up for my watch for years before I actually purchased it and know I will have it for a very long time.  Owning a beautiful timepiece is something that my grandpa taught me.  He had the most beautiful Seiko watch that I admired so much.  You can also incorporate a bracelet into your style as well. I love my classic David Yurman Cable bracelet.  Whichever piece you choose make sure it represents who you are and wear it proudly.  
Budget | Middle of the Road | Splurge and Splurge

A key piece will never go out of style. Investing in them at any age will never go out of style too.  What are your key pieces and where did you find them?  Let me know in the comments below.