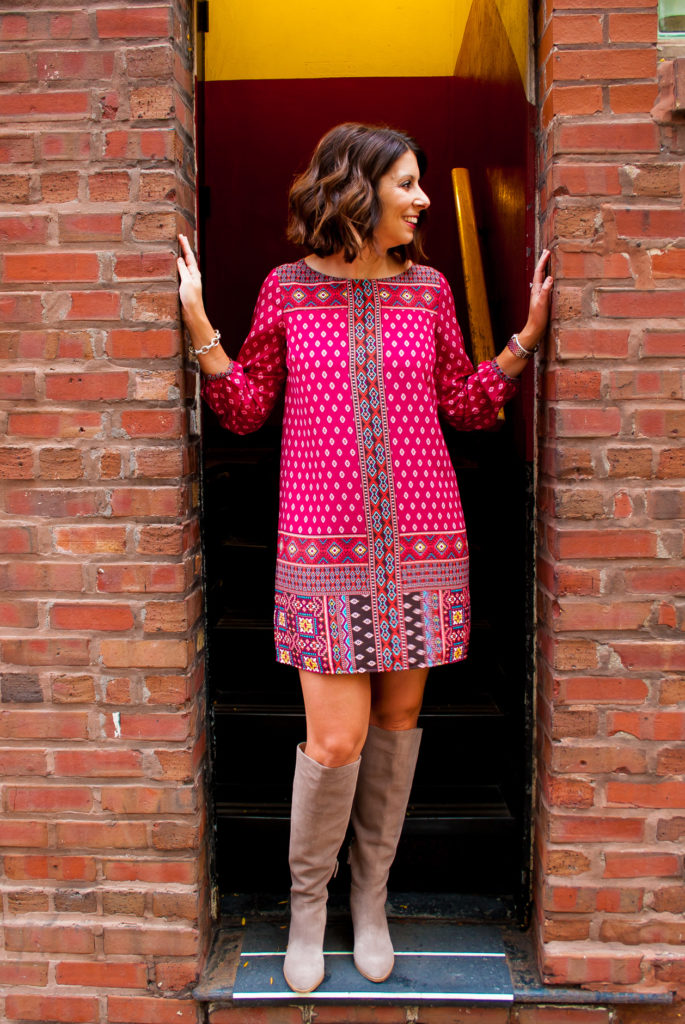 Can you believe Thanksgiving is a couple weeks away?  Where did the year go?  I've been contemplating what to wear on Thanksgiving Day.  Its one of those things that I agonize over for no real reason.  Thanksgiving is a more casual holiday, filled with cooking, learning new technology trends from my niece and nephew, and eating!  Fun fact about me, I hate eating turkey on Thanksgiving, technically I hate turkey all together, but I really don't like it on Thanksgiving.  I'll eat everything else though, especially pumpkin and pecan pie!
Enough about food, let's get to the outfits.  This year for Thanksgiving I've curated three Thanksgiving Day Outfit Ideas, across the full spectrum from dressy to casual.  These looks incorporate some of my favorite fall pieces from my current wardrobe and they also feature a new key piece I just got (read below to find out more!).  All these looks are easy to put together, but look super polished.  Lets see the choices!  
Dressed Up for Dinner
For my dressy option, I've chosen this Mosaic Shift Dress in a beautiful vibrant jewel tone.  The pattern is fun and upbeat and reminds me of fall and Thanksgiving.  What I love about a shift dress is the straightness of the cut, it just hangs beautifully on your body.  Putting on this dress instantly brings a smile to my face, the color is amazing!  I'm wearing it my go to suede boots of the season.  They are knee high and in a rich taupe color.  I was a bit nervous about the light color when I originally bought them, but once I wore them out I was in love.  I went a size up, I always wear an 8, but got an 8.5 and they fit perfectly.  I'd recommend going up a half size in these.  Besides the color I love the heel height and the fact that the heal isn't suede, its wood.  I tend to click my heels together when I walk so having a none suede heel gives this boot a longer life.  I've been wearing them with dresses, jeans and leggings all through fall and will continue to in the winter.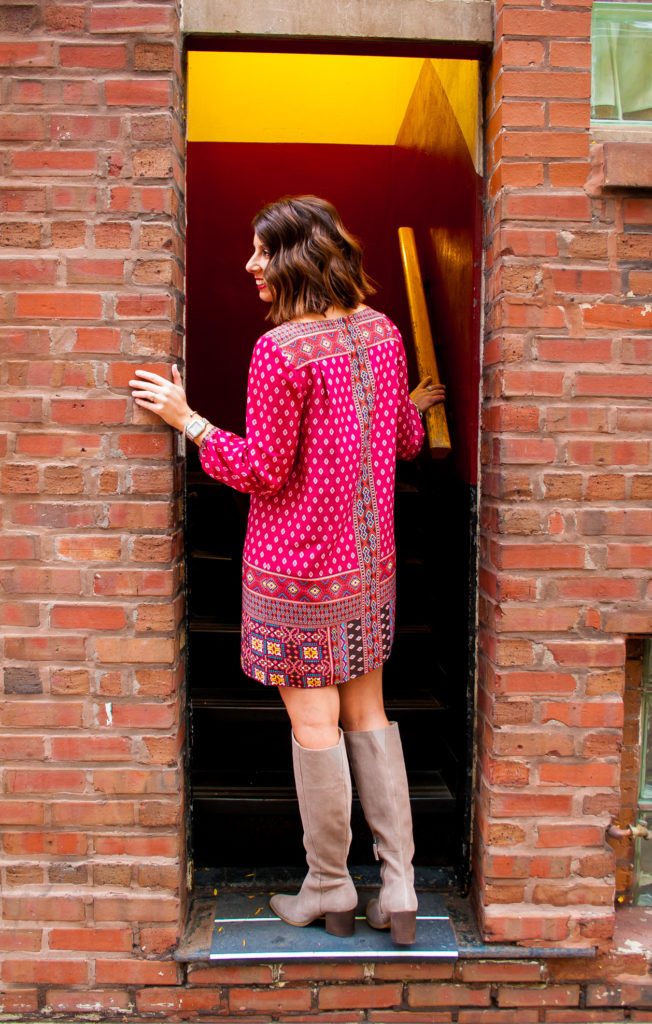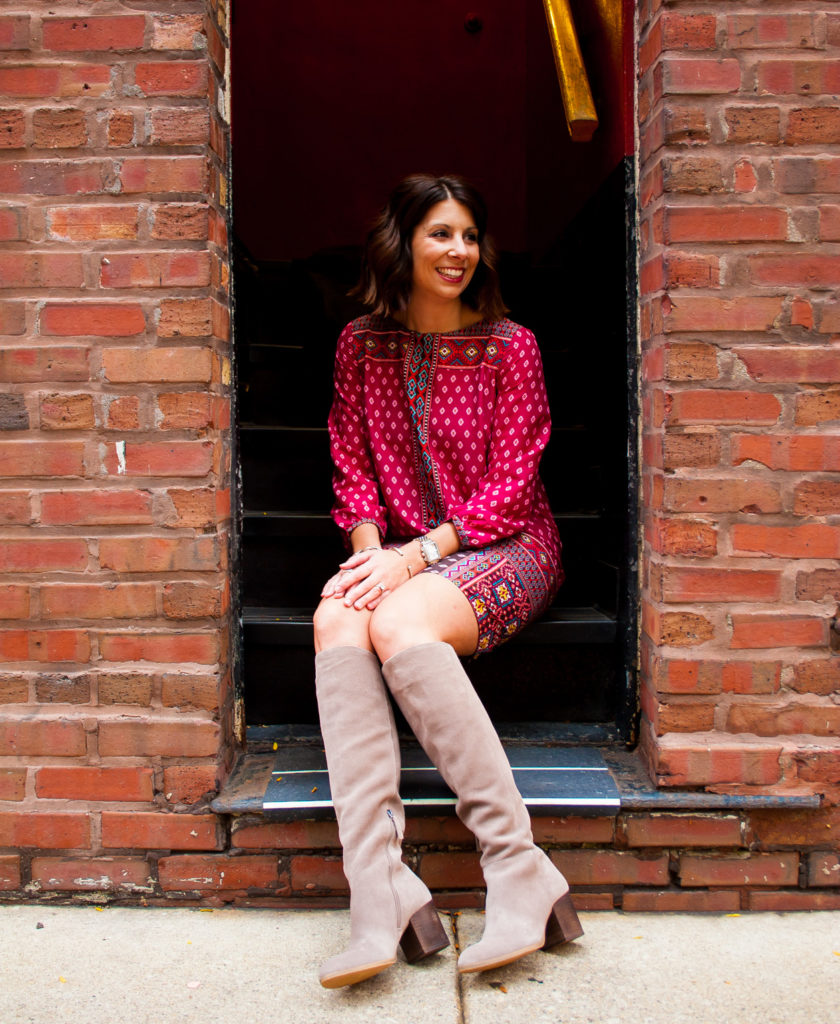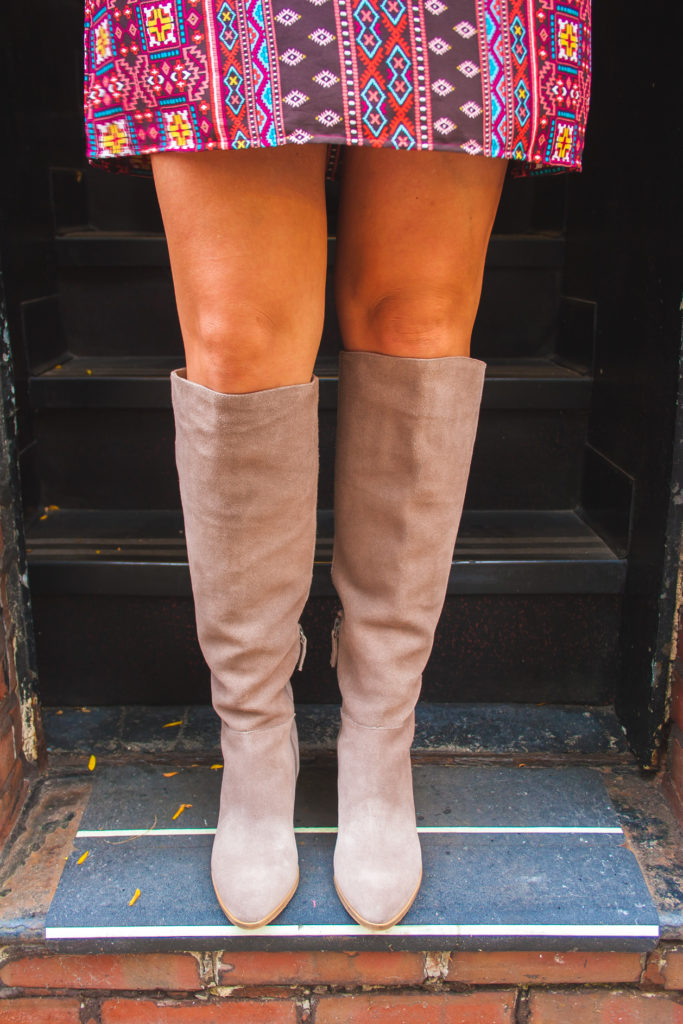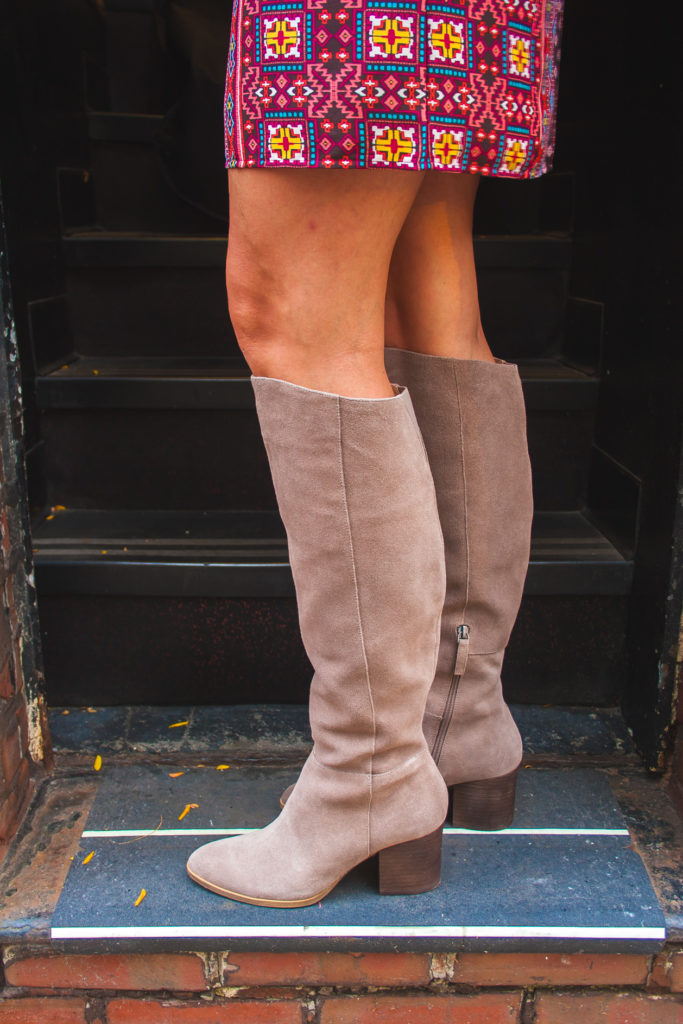 Casual Cool
My new favorite color this season is camel/khaki and it's shocking.  I'm a black, grey and white color palette type of gal, but I've really been trying to switch to a softer color palette and I'm loving it!  This cowlneck tunic sweater from the Loft is one of the best sweaters of the season.  It's longer in length and slightly oversized (depending on what size you get) which makes it an instant hit for me.  I love it so much I bought it in black too.  I know, old habits die hard, but the black is super chic looking.  Once again I've opted to pair this sweater with my 7 For All Mankind b(air) jeans, which are my go to dressy jeans this season.  Did I mention they have the perfect amount of stretch in them?  Which is ideal for big holiday meals and eating tons of pecan pie.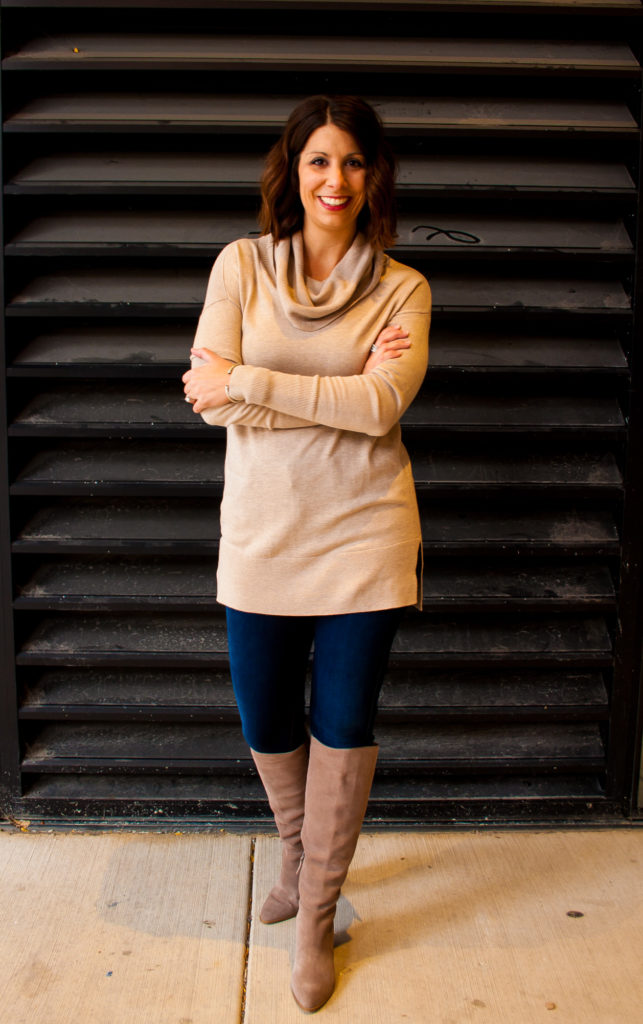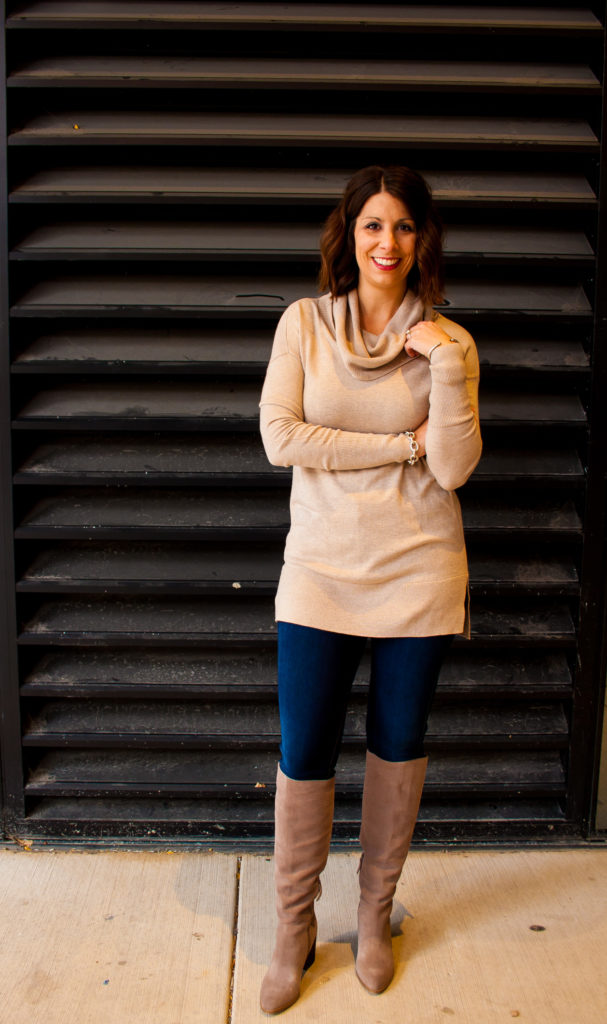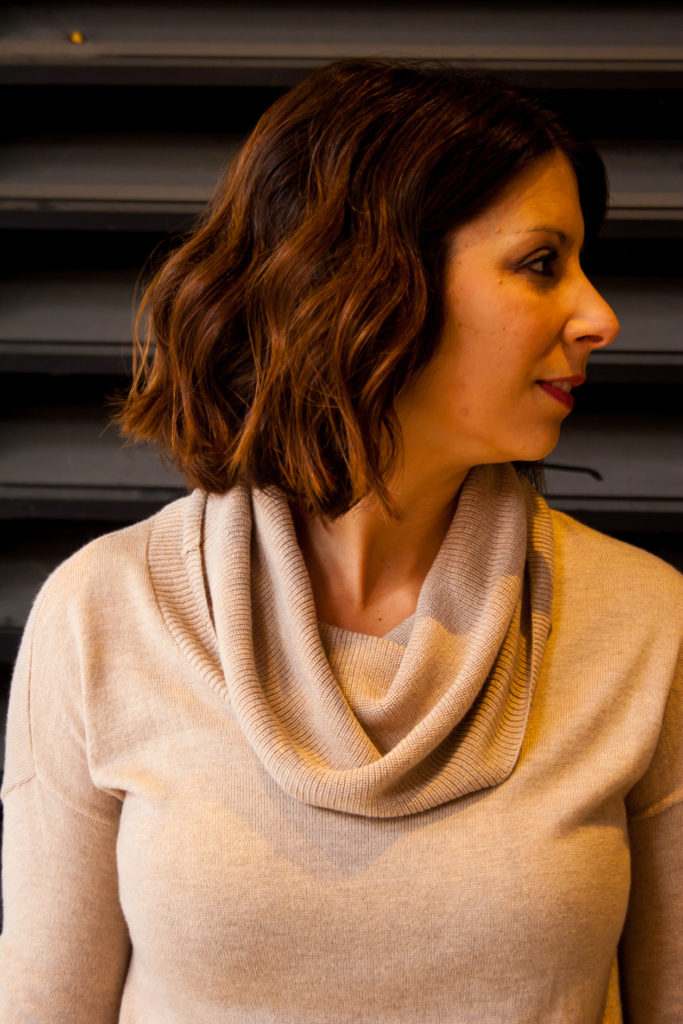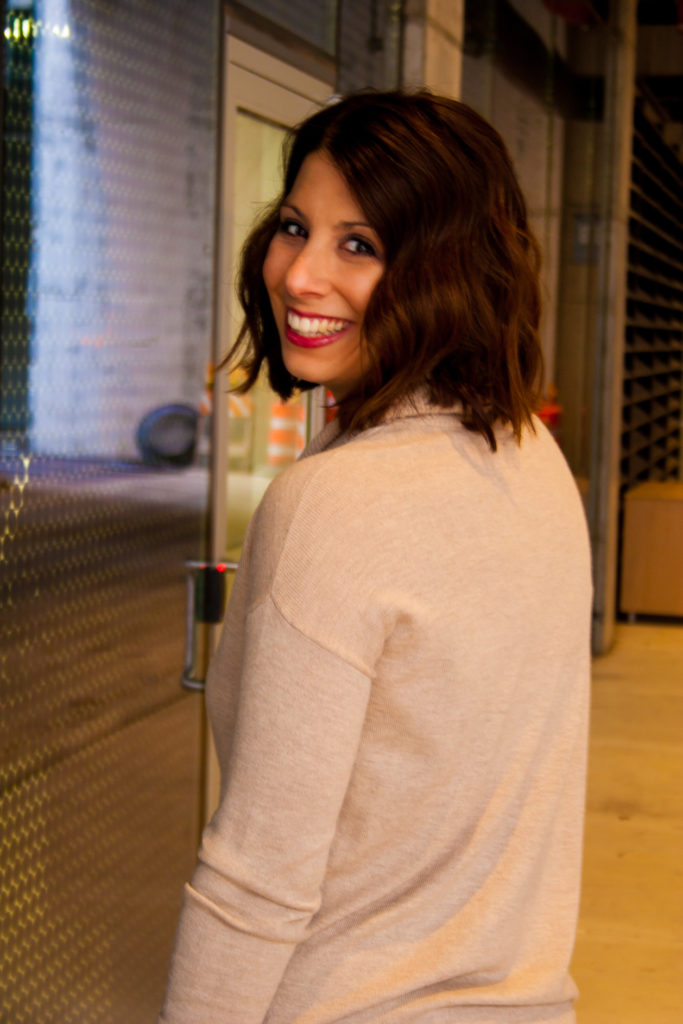 Structured Sweater Weather Outfit
This look is my dressy casual option.  I've paired my favorite J. Crew Open Front Sweater-Blazer  with this beautiful Smocked Neck Popover Blouse from Ann Taylor.  I love the dressy look of a blouse and the way it hangs perfectly on me as well as the rich color. The Sweater-Blazer is comfy yet structured.  The second I put this on in the store I was sold!  The look is polished and effortless.  It can be worn with a blouse or a t-shirt and everything in between.  Its perfect for travel too as it can be worn multiple ways to create more outfits.  It's so wonderful I'm calling it a key piece!  It also comes in several colors options, and I'm debating getting a black one too.  If you love it, buy it in multiple colors, right?  For my pants, I've opted for a super dark wash denim to dress this look up a bit.  My go to are my 7 For All Mankind b(air) jeans.  These jeans were made for me, with a high waist, long legs and the right amount of stretch.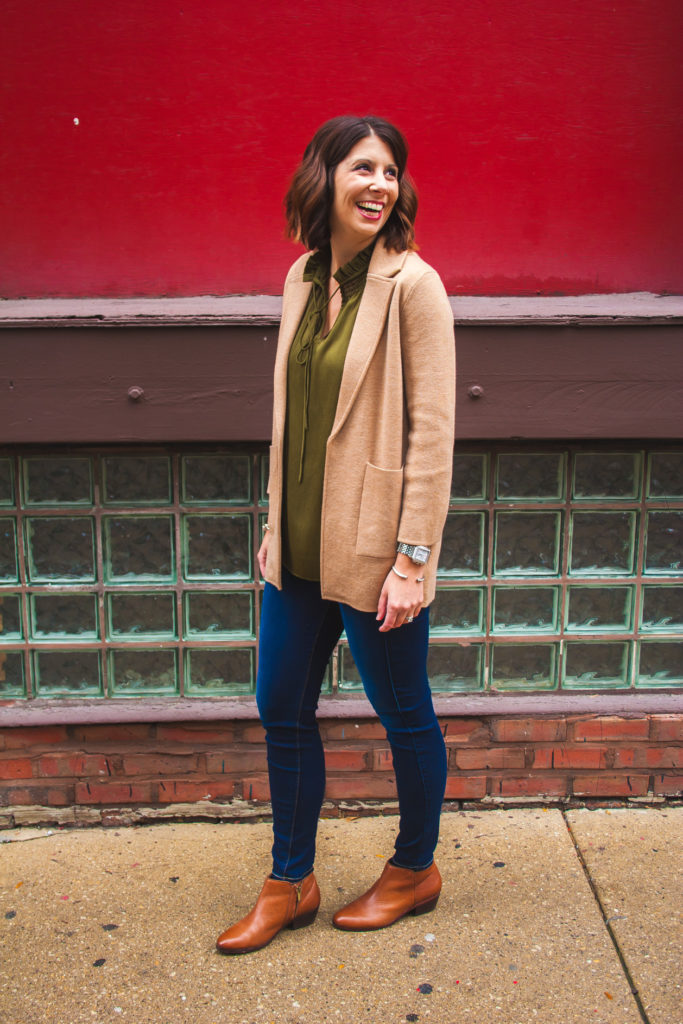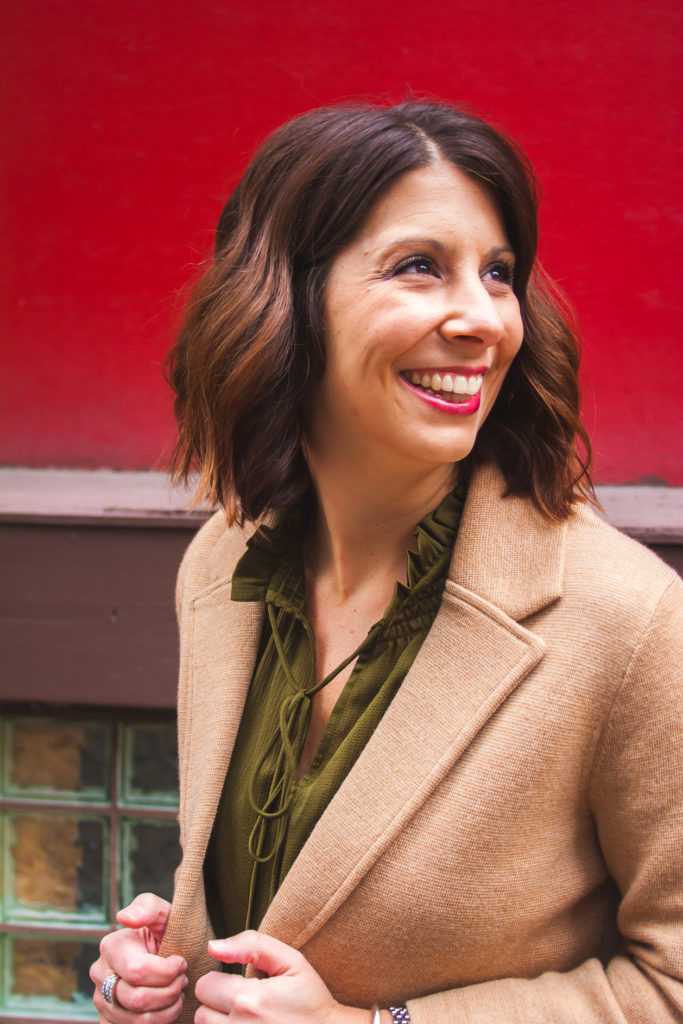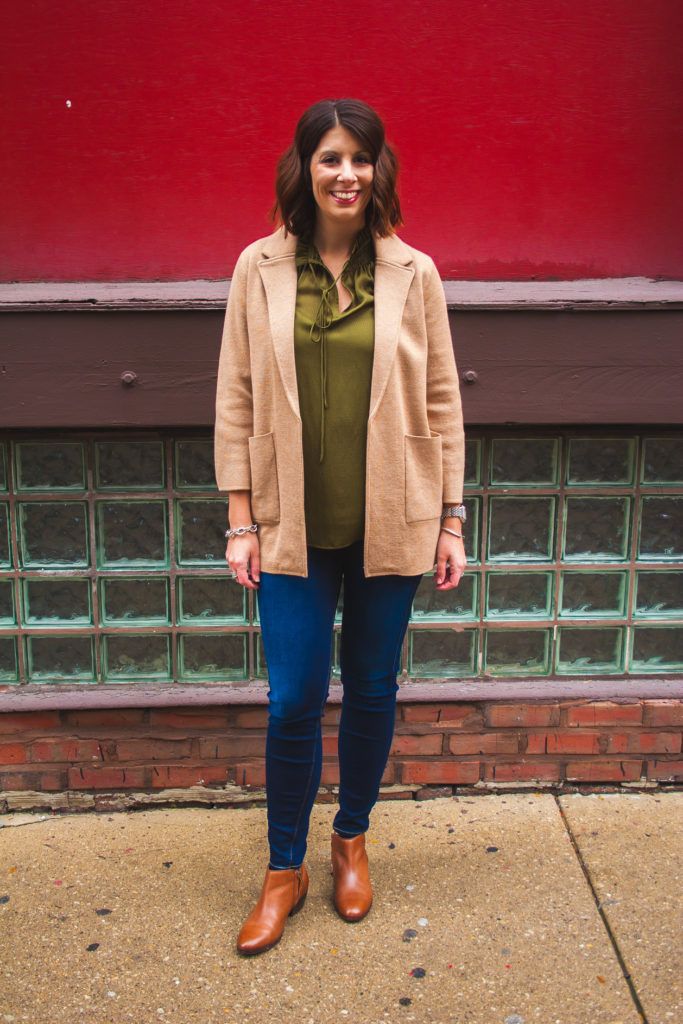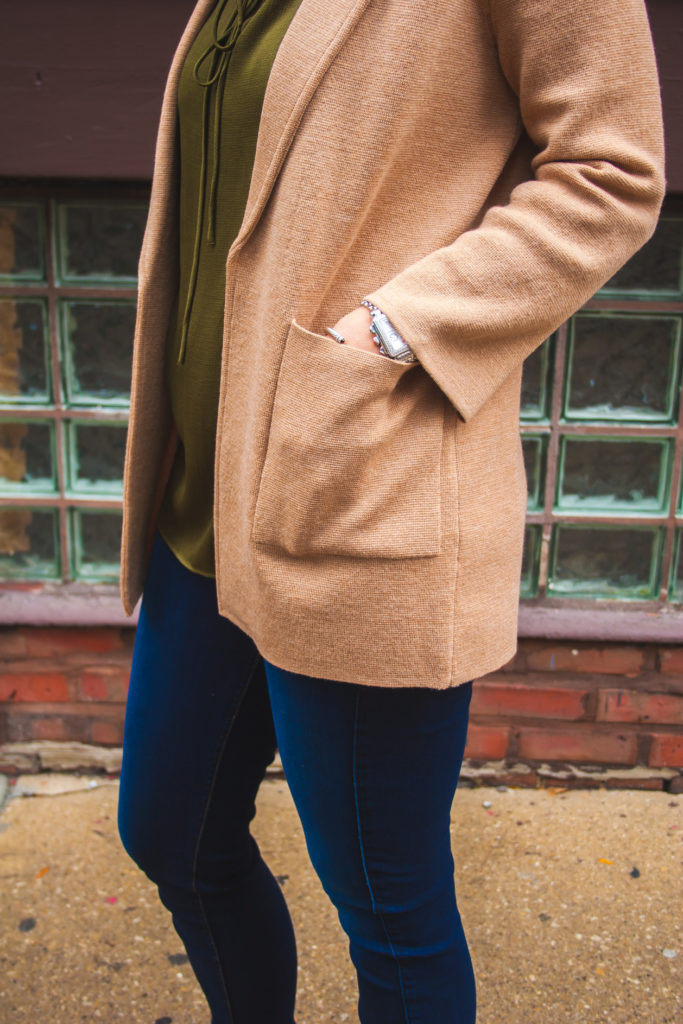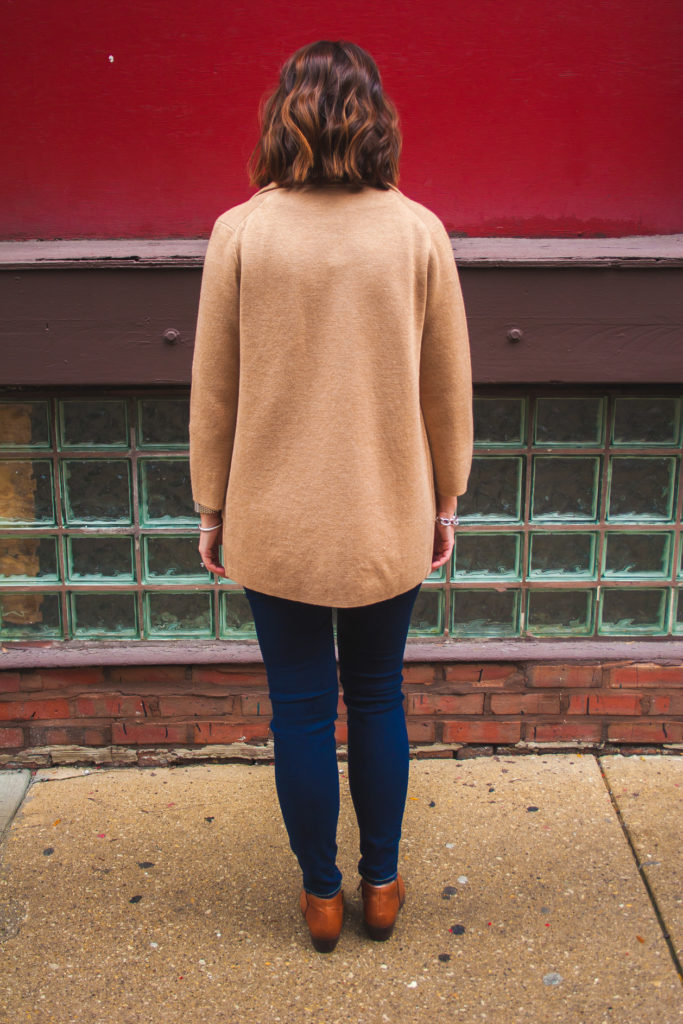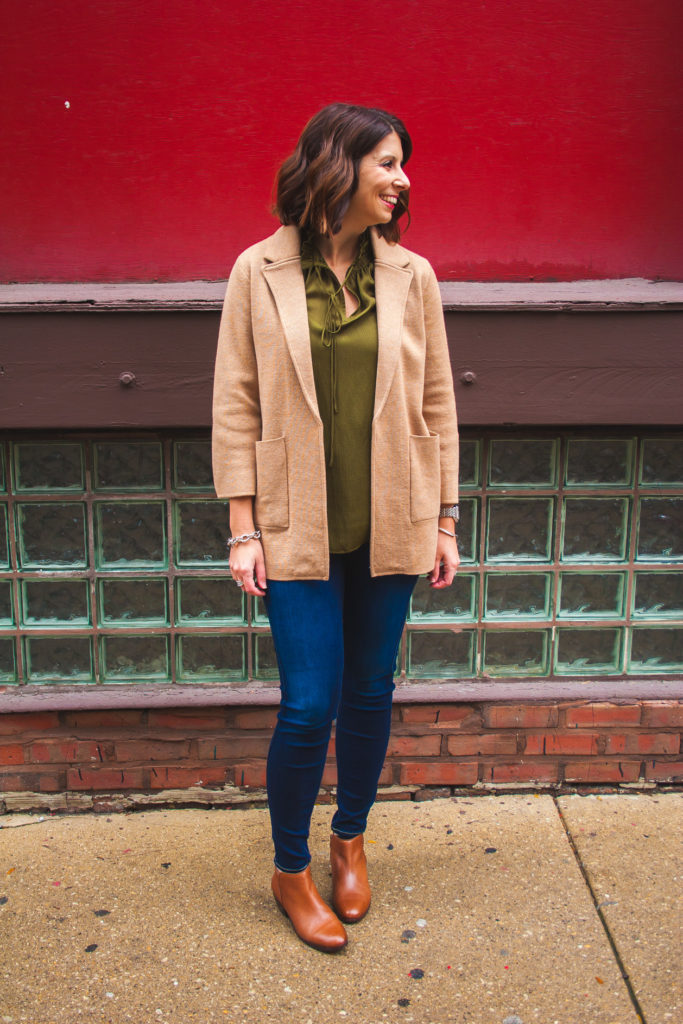 Decisions, decisions, decisions. Which Thanksgiving Day Outfit should I pick? I'd love some input and help.  Drop me a note below in the comments section.  What are you wearing for Thanksgiving? I'd love to see your outfits!
And be sure to follow me on instragram to see what outfit I choose to wear for Thanksgiving.  It will even be a surprise to me, as I've already changed my mind ten times.