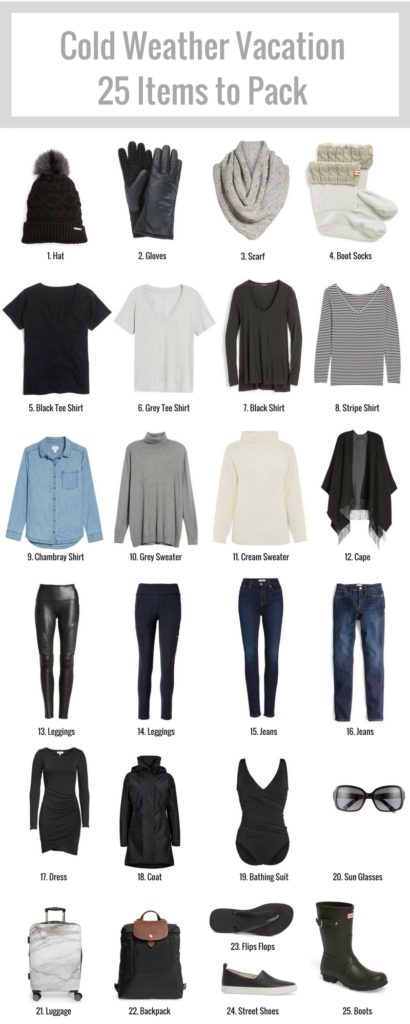 1. Hat  |  2. Glove  |  3. Scarf  |  4. Boot Socks  |  5. Black Tee Shirt  |  6. Grey Tee Shirt  |  7. Black Shirt  |  8. Stripe Shirt  |  9. Chambray Shirt  |  10. Grey Sweater  |  11. Cream Sweater  |  12. Cape  |  13. Leggings  |  14. Leggings  |  15. Jeans  |  16. Jeans  |  17. Dress  |            18. Coat  |  19. Bathing Suit  |  20. Sun Glasses  |21. Luggage  |  22. Backpack  |  23. Flip Flops  |  24. Street Shoes  |  25. Boots
We are off on our next trip to Quebec City (full travel guide to follow soon!).  It's been on our bucket list for some time now and we pulled the trigger and booked our flights.  One of the perks of being newly married later in life is having a dedicated budget item to travel and an partner who wants to see the world.  This is our second cold weather vacation and people always ask me why we go on cold weather vacations and how do you handle cold weather packing?  
For the first question, we go on cold weather vacations because we want to see those parts of the world too.  Our trip to Iceland last year was in search of the Northern Lights, which we sadly didn't see.  This year we are off to Quebec City for Winter Carnival.  We are going to Quebec City for a few reasons. The first being that Quebec is a French speaking colony (and I loved France so much, you can why here, here and here). Second, Quebec City is an adorable little town and that I've been wanting to visit for years. And third, I've been searching for a winter scene even since Christmas ended!
For the second question, how to manage cold weather packing? One answer, Layers!  You have to layer up for cold weather vacations. Remember, you can always take layers off, but you can't put them on if you don't have it with you.  I'm pretty good at packing color-coordinated, interchangeable items for vacations.  This allows me to maximize my space in the suitcase and provides outfit options when I arrive.  I admit that in some cases I do re-wear certain pieces if I have to, but overall I try to wear fresh pieces each day.  
Take a peak into my list for cold weather packing as well as some outfit options for when you arrive.  I tend to over pack or under pack, but this list if just the right amount for cold weather vacations.  You can shop the posts as well by clicking on the links or the pictures. 
Travel Outfit
3. Scarf  | 12. Cape  |  14. Leggings  |  17. Dress  |   20. Sun Glasses  |21. Luggage  |  22. Backpack  |  24. Street Shoes  |
Outdoor Exploring Outfit – Option 1
1. Hat  |  2. Glove  |  3. Scarf  |  4. Boot Socks  |  5. Black Tee Shirt  |    7. Black Shirt  |   10. Grey Sweater  |  15. Jeans  |  18. Coat  |  20. Sun Glasses  |  22. Backpack  |   25. Boots
Outdoor Exploring Outfit – Option 2
1. Hat  |  2. Glove  |  3. Scarf  |  4. Boot Socks  |  6. Grey Tee Shirt  |   8. Stripe Shirt  |  11. Cream Sweater  |  16. Jeans  |   18. Coat  |    20. Sun Glasses  | 22. Backpack  |   25. Boots
Night Outfit – Option 1
3. Scarf  |   7. Black Shirt  |   9. Chambray Shirt  |  12. Cape  |  15. Jeans  |  22. Backpack  |  24. Street Shoes  |
Night Outfit – Option 2
3. Scarf  |  12. Cape  |  13. Leggings  | 17. Dress  |   22. Backpack  |  25. Boots
Indoor Outfit
1. Hat  |   3. Scarf  |  8. Stripe Shirt  |   12. Cape  |   16. Jeans  |   20. Sun Glasses  |  22. Backpack  |  24. Street Shoes
Thermal Bath Outfit
12. Cape  |  14. Leggings  | 19. Bathing Suit  |  20. Sun Glasses   22. Backpack  |  23. Flip Flops  |