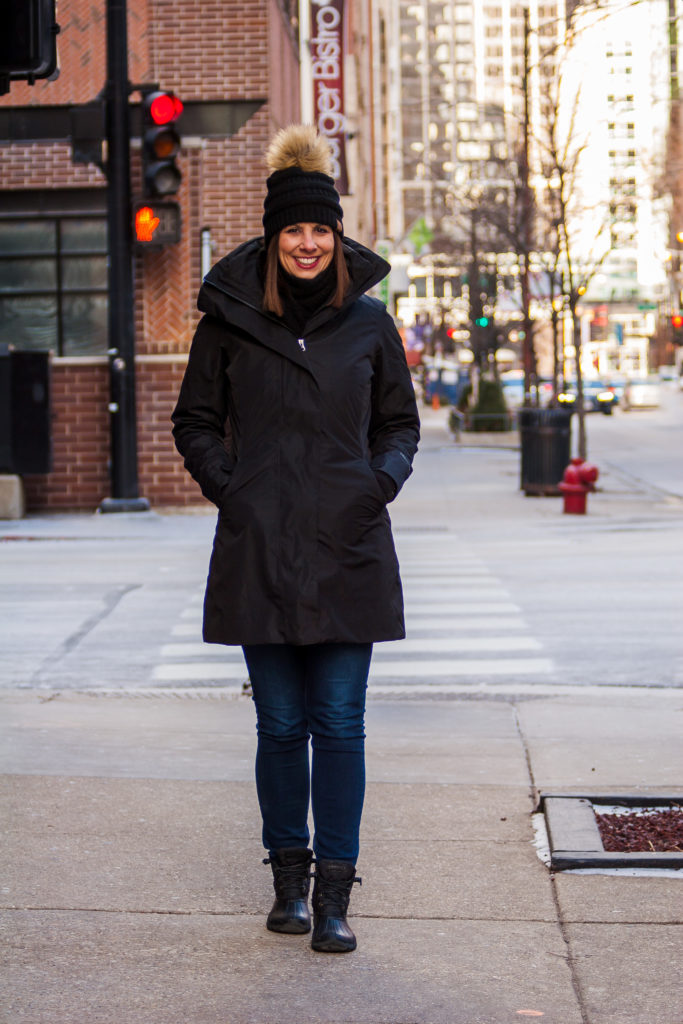 How many winter coats do you have?  If I answer honestly, I have seven. However, I probably only wear two of them consistently.  You could say I love to collect coats for any season, especially winter.  It's so easy to accidentally have seven winter coats hanging in the closet.  You buy one or two each year and all of a sudden you have too many and can't get rid of any of them because they are all your favorites.  While I'm guilty of having too many coats and don't want to part with any of them, I'm slowly realizing that I may not need all of them.  I also discovered the best coat in the entire world that is actually three different coats in one. It's the ultimate winter coat.  Intrigued? Then keep reading! And don't forget to follow me on Instagram and Pinterest to see this coat in action. 
My two go-to winter coats have been getting replayed for years.  I have my work dress coat, which is an older version of this coat.  When I say older, I mean this is the fifth winter I'm wearing this thing.  I love this coat. LOVE this coat! It is classic and warm and beautiful, but you can also tell that it's getting older and isn't as shiny and new as it once was.  I also have my "puffer" coat.  Living in Chicago you have to have a coat that will keep you warm in sub zero temps and looking good.  Well this year my puffer died  🙁 I let it get old and the zipper started to rip out of the coat.  While I repaired it several times it was at the point of being un-salvageable. To be honest, I was never in love with my puffer coat, but one winter it was below 25 degrees for many days and I needed to have a heavy coat to keep warm.  For those cold days, it was my ultimate winter coat. But that didn't last.
In general, finding a good coat is hard to do.  I can be fussy.  But I like to say that "I know what I want and won't stop till I find it."  For starters, I view a coat as an investment and not just a piece of clothing.  I don't mind spending a little bit more money if I find something I truly love.  When I truly love a coat (or any clothing piece) I take better care of it, which lengthens the life of the item.  I'm also proud to wear the coat and carry myself a little taller and prouder when I wear it.  So when my my puffer died I had to get another heavy and warm coat. But as always, I want to truly love the new coat, not just like it.
How did I go about finding the ultimate winter coat to replace my puffer?  By doing what I do best.  I made a list of what I wanted in the coat and got to work.  I also did some random sampling for opinions and asked co-workers, the girl on the bus, and my friends what they wore for warm winter coats. The responses were a bit all over the place.  Everyone is different and their idea of "warm" might not be my idea of warm.  And lets face it, I can go from freezing to sweating in 3 seconds flat so I'm pretty unique.  
The research was split, about half said that Canada Goose was their go-to puffer jacket.  While I did the research on the jacket and brand to better understand their temperature rating and warmth of their coats, I couldn't choke down the $900+ price tag for a coat.  I know they are warm, but that's a lot of money! And let's get serious. I won't even coat-check my $60 JCPenney coat in fear of it being stolen so I was never going to coat-check a Canada Goose jacket.  However, I learned a lot about the company and was fascinated by it.  Some fun facts for you…the company has been around for 60 years and recently got popular with regular consumers in the past 3 years.  First and foremost they are a utility company, they aren't in it for high fashion, they are in it for warmth.  I also found out that counterfeit Canada Goose jackets are everywhere!  They spent the last year chasing down 19,000 counterfeit listings on various websites and that's the ones they caught!  Isn't that crazy?
The other response I received from my research was Marmot and to be honest, I never heard of them before.  It's a true outdoors company like a Patagonia, REI and North Face.  They are focused on functional pieces for outdoor wear and offer a lot of options, but I was instantly drawn to one coat in particular.  It's the Downtown Component Jacket and it was love at first site!  This coat has everything I was looking for and more.  It was the ultimate winter coat! Here are my top ten reasons why I love it:
Warmth without the puffer look – it has a smooth exterior and a detachable hood

Minimized logo (I'm not a huge fan of logos on my clothing)

Longer in length so it covers my rear end

Two-way zipper that corrects itself when you sit down.  No more zippers ripping out of the seam!

Hidden zipper closure – I'm not a huge fan of exposed zippers on coats

Defined waist – I had a shape in this jacket and didn't feel like a stuffed sausage

Magnetic closures on the zipper and sleeve.  While I wasn't looking for it, its a great feature that allows the coat to easily adjust to whatever you are doing.  Sitting or standing it breaks away and re-attaches to keep the coat looking put together.  

Super Warm –  I wore this in the last cold blast in Chicago (I'm talking like -10 degrees) and was warm to the core.  

Spot on sizing – it runs true to size and I'm wearing a medium

And the best part…3 coats in 1! It has a zip out shell that can be worn alone on warmer winter days.  The lightweight outer shell can be warm in the spring or fall and also used as a raincoat with the hood.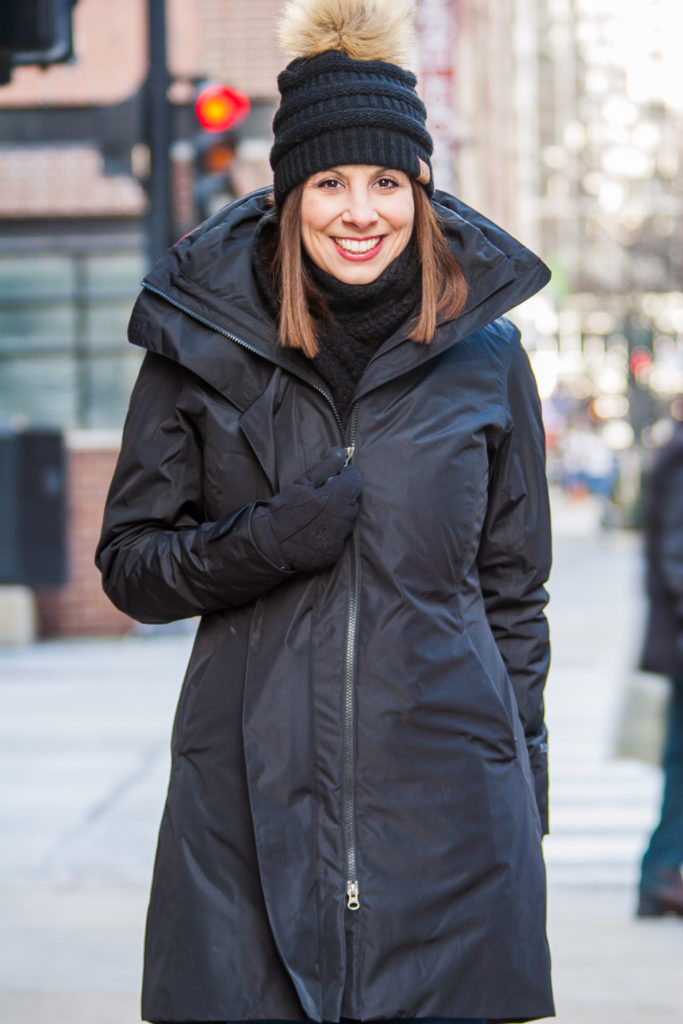 This coat had it all and also a much more budget friendly price tag.  I'm in love, maybe even more in love them my J.Crew Jacket.  The best part is I've been wearing this coat all over town; to work, to and from Pure Barre, and even out on date night!  Mike gets a big kick out of it because three years ago I would never wear a "puffer" out on a date night, but now I'm all in!  He can't laugh that hard though,  he just went out and got a 3-in-1 Component Coat too.  Don't worry I helped with the research on his too.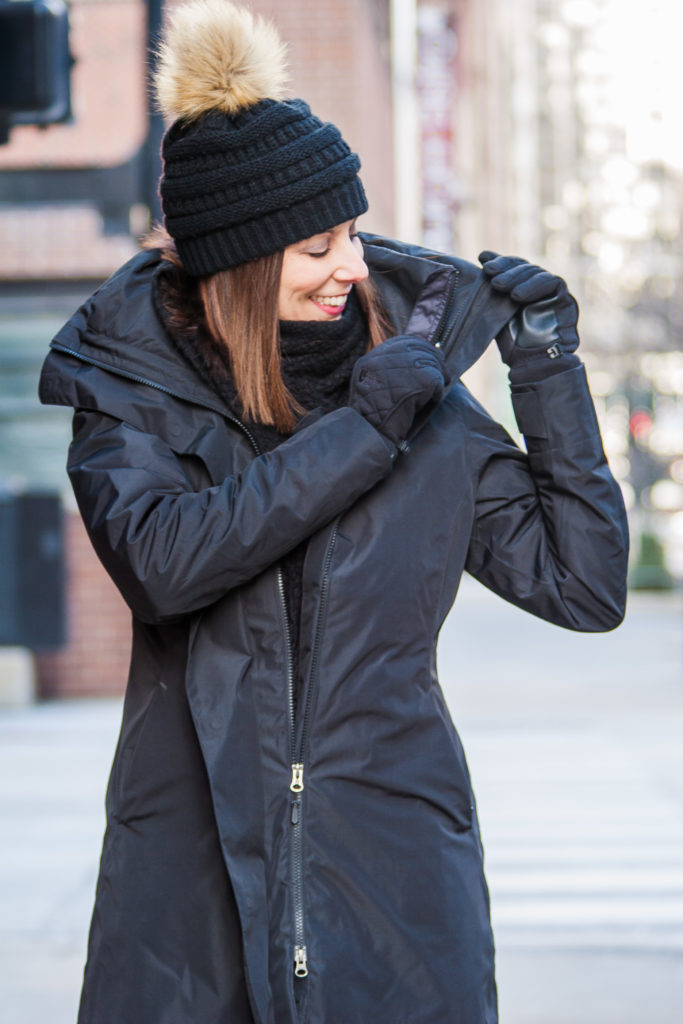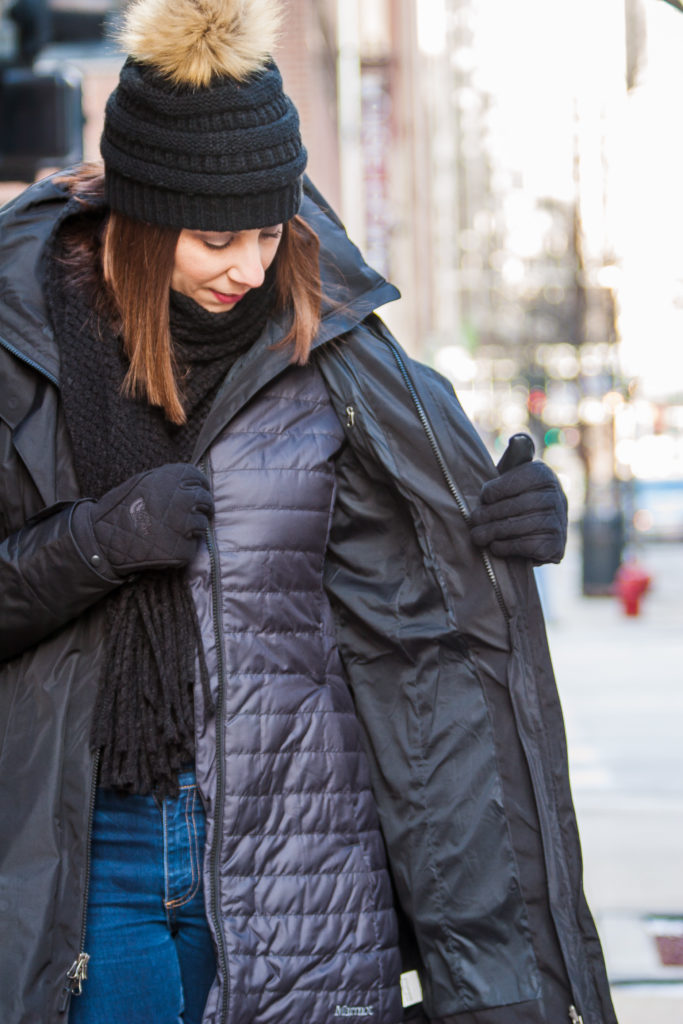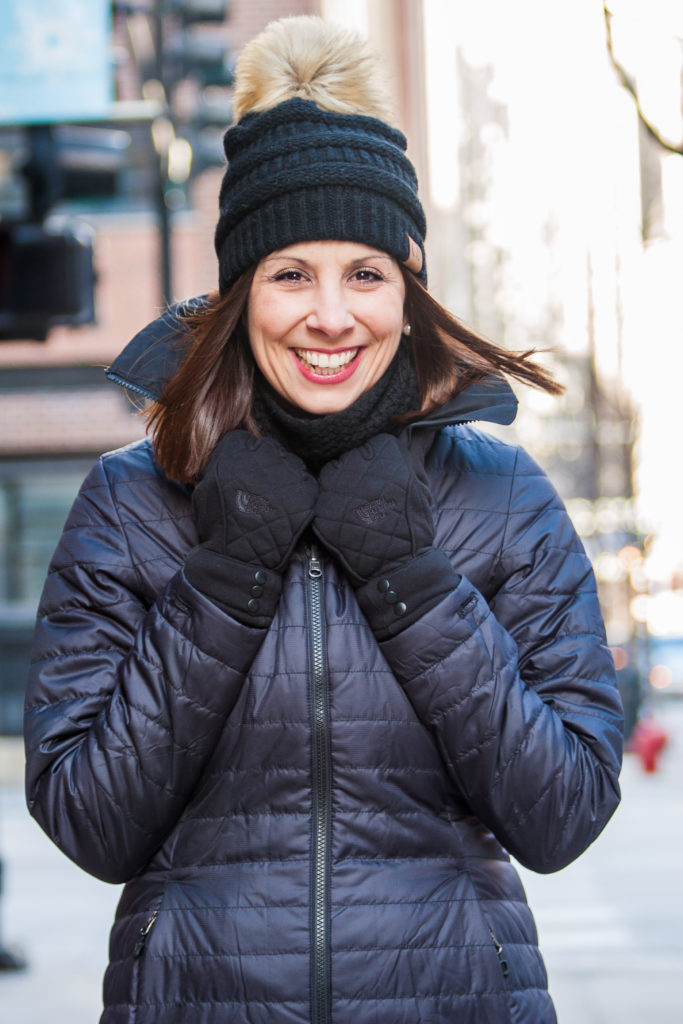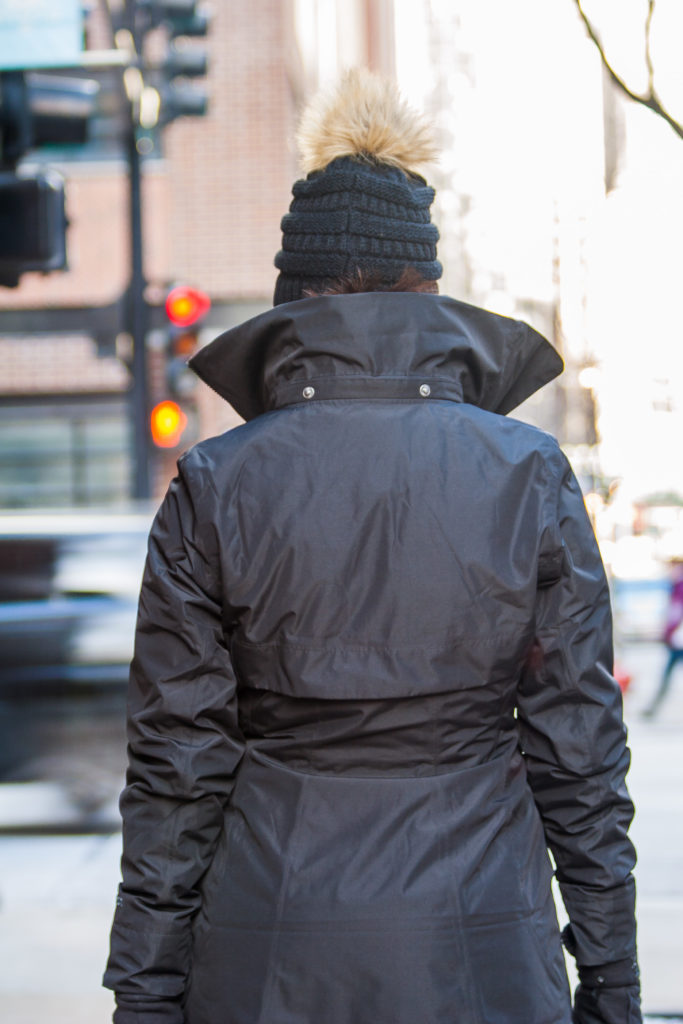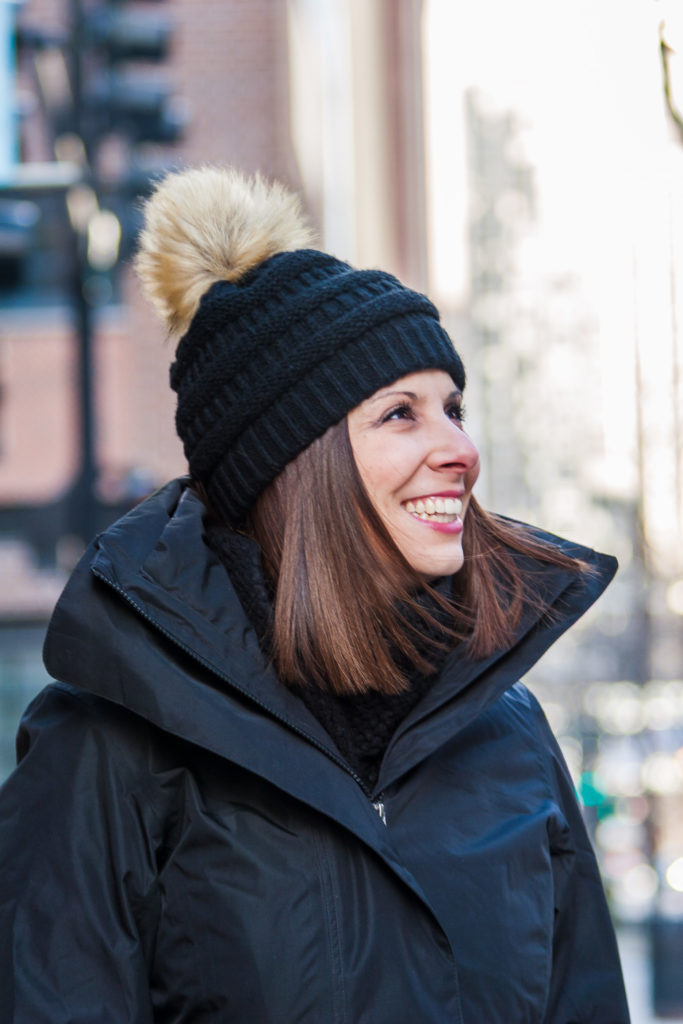 In case you're wondering, it was 4 degrees outside when I took these photos and I was toasty warm in my coat!  I wish I had this coat for my trip to Iceland, but I'm excited that I'll be wearing it on our upcoming trip to Quebec City for the Winter Carnival.  Stay tuned for my travel guide to that winter wonderland!